Do you dream of adventure?
Get swept away by the water!
The Rafting Parc, located 200 metres from the old part of La Seu d'Urgell, provides active tourism lovers with the chance to enjoy sporting activities. The rafting, canoeing, open-kayak and hydrospeed activities take place in an unparalleled setting and can be enjoyed with full safety guarantees.
Exceptional facilities
The different elements of the Park make this recreational area an exceptional facility: mechanical lifts, a mini pump and turbine hydropower plant and a sanitizer and dryer of sporting equipment are cutting-edge technological elements incorporated into the Park to guarantee and facilitate the sports activity within a green environment, where the sporting channels enjoy special prominence.
The safe adventure
The activities take place in a controlled environment, with a regulated water volume and a team of qualified monitors, enabling those enjoying the activities in the Park to get full satisfaction and take away some unforgettable memories.
The human team behind this set-up means that the activities are carried out in complete safety.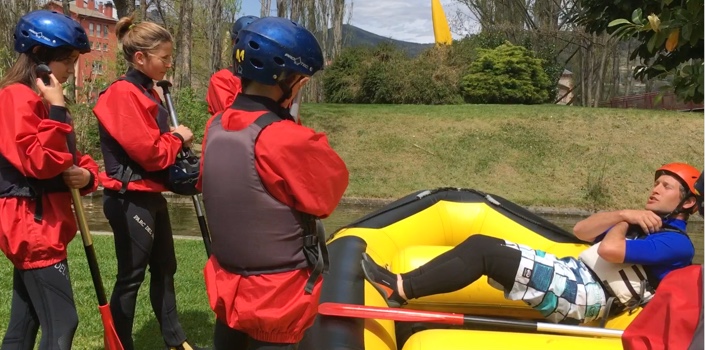 The equipment
The changing rooms, showers, a carefully-designed system for the cleaning and disinfection of the equipment (neoprene wetsuits and footwear, life jackets, helmets, etc.) and the highly-qualified staff enable you to enjoy the intense thrills provided by the aquatic world of the Rafting Parc in complete safety and comfort. Check out the range of activities you can enjoy here!
"La Terrasseta" Bar-Restaurant
Enjoy an excellent meal at the foot of the flat waters, with perfect views of the Cadí mountain range. We have a daily set menu, a children's menu, a menu for schoolchildren and a menu for groups. We also have special dishes for vegetarians and coeliacs.
La Seu d'Urgell and the Olympic Park offer a range of facilities and activities in the Pyrenees, enabling tourists to enjoy emotions and thrills in an unparalleled setting.
RAFTING PARC
Crta. Circumval.lació, s/n,
25700 La Seu d'Urgell, Lleida